Since my last Glossier post, I fell even more in love with their products. The boy brow and stretch concealer are fitting nicely into my daily makeup routine. It's the brand where you want the no-makeup makeup look. Glossier nailed it. Because of how well I got on with those products, I wanted put up yet another little haul. I was not intending to post this, as the Black Tie Set is from the holiday and I just wanted to use these products quickly. However, I did post anyway since the 'limited edition' Lip Gloss and Haloscope are part of their collection to stay!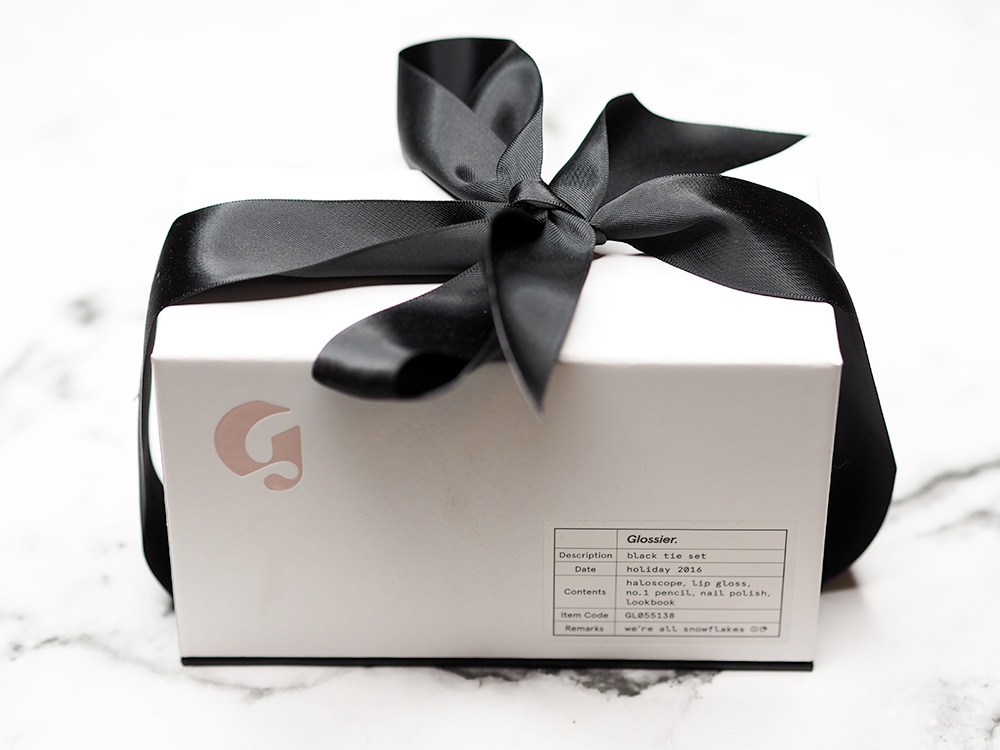 Inside you'll find a Haloscope, lip gloss, no. 1 pencil, nail polish and a lookbook. All of the items are full-size and mostly available for purchase. It arrives in this cute white Glossier box with a black ribbon tied to the top. A bit more about the products inside:
Lip Gloss – This gloss looks pink from the bottle, but actually applies clear on the lips. The consistency feels really thick. Weirdly enough I don't find it very sticky or tacky, especially after a few minutes of wear. It is a high gloss.
No. 1 Eye Pencil – The color of this pencil is Graphite. It's a shimmery gun-metal, but doesn't glitter you up. I find that it draws on extremely smooth and is dark enough (nearly, but not quite black) for the type of eyeliner I like.
Nail Polish – This nail polish comes in #glossierpink. Lately I've been loving the blush and light pinks. This polish is extremely feminine and works way better than I thought it would. I normally apply two coats when I use it. I'd say I get at least 5-7 days wear without chipping.
Haloscope Highlighter – I was intrigued to try the different shades of this highlighter when I saw them on the site, but didn't know which one to pick. The one that comes in the Black Tie Set is Moonstone, which like I said above, recently became a permanent piece to their collection. It glides on very dewy and light, but in sunlight gives more of a natural pop!
If you want to save 20% off on your next order, all you've got to do is click the link and it will be added to your cart.