I've been using Marc Jacobs Beauty for a few years – on and off again, but only until recently have I found products that I can't live without in my daily makeup routine. And before I begin, I want to say sorry for the lack of perfect un-used makeup photos, I couldn't help myself… once I swatched them, I needed to use it.
It goes without saying that the Marc Jacobs Beauty brand in general is stunning. The packaging is in sleek, thick black plastic with silver text on it. The products feel and look so luxurious without even having to try them first. However, what gets me excited is the actual quality.
First up is the Marc Jacobs Eye-Conic Multi-Finish Eyeshadow Palette. I picked it up in the Edgitorial colors, which are labeled as camouflage and reflective gold. In the set, there are 3 mattes and 4 shimmers. It set me back $49 – in all fairness I did get it during Sephora's Beauty Event for 20% off. The shimmers are gorgeous and buttery soft, but do create a bit of fall out. The mattes blend really well with no fall out. It didn't matter what type of brush I used, they all took to the pigment really effortlessly. 100% worth every penny.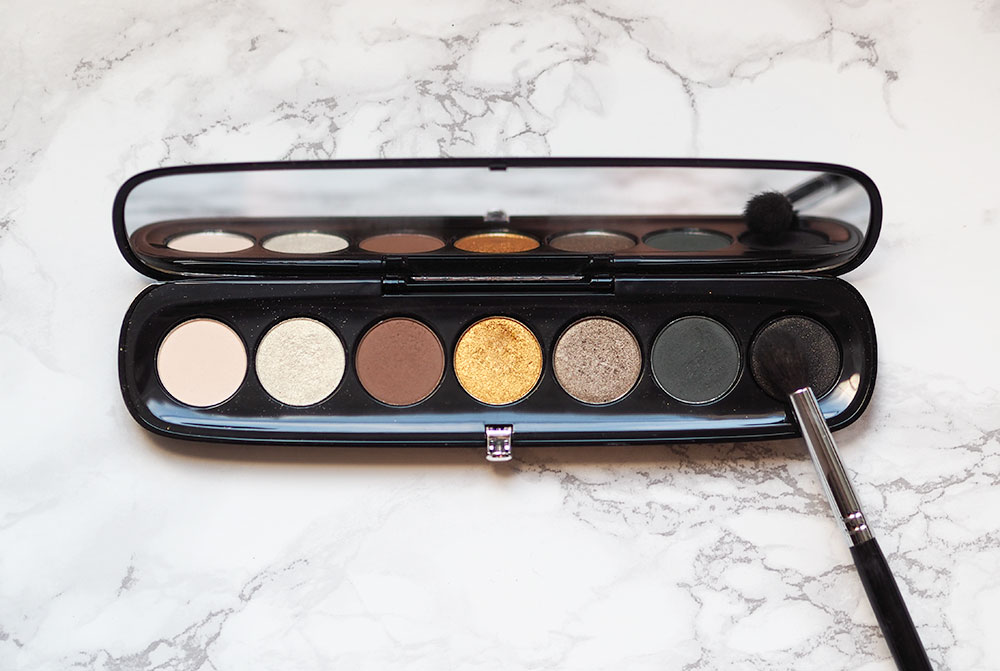 Take a Memo: a matte bone shade
Next Season: a shimmer white-ish grey
We'll See: a matte deep brown
Pleather Python: a shimmer reflective gold
Making a Scene: a shimmer deep olive bronze
Enviously: a matte deep forest green
Everywhere: a shimmer black with shines of silver metallic
I heard the eyeshadows paired well and lasted longer with the UNDER(COVER) Perfecting Coconut Eye Primer in Invisible for $26. Yes, it smells of coconuts, or maybe creme brûlée. This was a total impulse buy, probably because of my 20% discount, but I have never used an eyeshadow primer; I just really don't believe the hype. I did test the eyeshadows with and without the primer and I did see that after an 8 hour work day, the pigment stayed longer while wearing the primer. I found it a bit hard to blend in eyeshadow until I managed to get a base color down on top of the primer, it was a bit creased until it's completely dried down. So if you're in a hurry – skip the primer. Would I go out and say it's a "must have" product in my everyday kit? No, but it was nice.
Lately I've been in love with my hard-to-beat-priced drugstore mascara, but when I got a sample of the Velvet Noir Major Volume Mascara in Black – I changed my mind a bit. I always find it hard to spend money on a good mascara because they dry up so quickly and/or I can't find one that if I sneeze, doesn't make me look like a raccoon. The Marc Jacobs one will set you back $26, but I find that it's far superior than some of my MAC, Dior and Chanel mascaras. It gives you thick black lashes without having them feel crusty after a few hours of wear.
Saving the best for last is the Marc Jacobs O!Mega Bronze Perfect Tan in the shade Tantric. I'm sure you've seen everyone raving and it's well deserved. The two times I went to go purchase, they were sold out. Finally I stopped into Sephora on one of the last days of the sale and managed to snag the last one in their inventory. It costs $49 and is a super-sized bronzer, which works perfectly on so many skin tones without giving an orange glow. It literally does what it claims to do: a radiant-matte finish that looks flawless and never shiny. Application is a breeze and the bronzer is very buildable. You can get a light glow from the product or build it up for a dark bronze going-out look. Absolutely a 10/10 in my book.