There's something satisfying about finishing the end of a beauty product, right? Well, in the past few months I've been remembering to save my empties to be able to put this post together. I decided to split everything up into sections, because I do have quite the lot. So here goes today, it is skincare!
Drunk Elephant Beste No. 9 Jelly Cleanser: I genuinely am really into this cleanser, but is it worth the $32 price tag? Yes and no. Pros of it, it's 100% free of essential oils, silicones and fragrance. It doesn't leave my face feeling stripped. You don't need a lot to feel cleansed. Cons of the cleanser, I don't feel like I can justify spending that much on a cleanser again, unless its during a Sephora sale. After all – I do just rinse it right down the drain. I also like to be able to see how much is left in the bottle before I run out so I know when I need to re-purchase something else.
Pixi Beauty Double Cleanse: I love that this cleanser has dual sides to it, hence the name double cleanse. The great Caroline Hirons created this product where one side contains a solid cleansing oil and the other side a luxe cleansing cream. It give you the ultimate evening cleansing and I look forward to using it. The double cleanser is likely one of the easiest to get ahold of & can be purchased for $24. When I use it, my face feels so clean, but not stripped. I will repurchase now that it's gone!
Clinique Take The Day Off Cleansing Balm: Hands down, this is my all time favorite balm cleanser. I have not tried too many Clinique products in my twenties, they were very popular in my teen years, but I hear so many positive reviews about this cleanser. It turns from a balm into an oil with water and flawlessly takes off mascara, even waterproof. Seriously love this stuff! I usually pick it up in bulk quantities during sales. Perk: a little goes a long way. $30 (currently $5 off) with the link above!
Garnier Micellar Water: Probably the most well known of the cleansers is the Garnier line. I travel with it everywhere. I have gone through countless amounts of bottles. It takes the makeup off so smoothly, it's literally miracle water. What I also love about this product, besides being available literally anywhere, is that it comes in multiple forms and options. There are mini sizes, large sizes, in makeup wipes and sheet masks.It ranges from $3-$17. I already have two bottles that are empty after writing this post.
Glossier Milky Jelly Cleanser: I love love love love this one. I think I've repurchased it over and over again. You can read my full review here. It's extremely gentle on the skin and apparently has the same ingredients in contact lens solution, so you don't have to worry about stinging your eyes. Since I wrote that post, the Milky Jelly Cleanser has been released in a smaller travel-friendly version. Pro Tip: Buy one of each size & just refill the small one when you're ready to go on a trip so the cost-per-pump makes sense!
La Mer Cleansing Foam: Let me start out by saying I love lush products and I love La Mer products. That being said, I did not feel like this was really worth the money. It's a whopping $95 and claims to draw out impurities and excess oil. This light wash leaves the skin feeling soft and energized for a bright, fresh, healthy-looking complexion. The name includes the word "foam" however I feel like it's not foam-y at all. My feelings have changed since I raved about it previously, only because I have tried so many more products that are more satisfying AND do not break the bank.
Fresh Soy Face Cleanser: Out of all of the cleansers I've tried, this is my least favorite and seems like it went empty very quickly. I used to rate it with my beloved Glossier Cleanser, but now I can't. Soo many people on social media swear by it. And I don't. Maybe it was the smell? I'm unsure. I can't pinpoint exactly what I don't love about this cleanser. It costs $38, but on the upside it comes in travel sizes too, so before you make the investment – you are able to sample it. It is not quite the product I'd re-buy.
Omorovicza Cleansing Foam: And last but not least for this edition of skincare empties is the Omorovicza cleanser. I got this during a sale (go figure) and I absolutely love it. I immediately grew to enjoy it and weirdly look forward to cleansing my face. It is essentially odorless and colorless and gives the softest touch to the skin afterwards. PS if you haven't tried any of their products, you should. This cleanser has a sample sized version to try before you buy as well. I really appreciate when brands do that. The cleanser is an $80 investment, but during the holidays and in gift-sets you can usually find a good deal.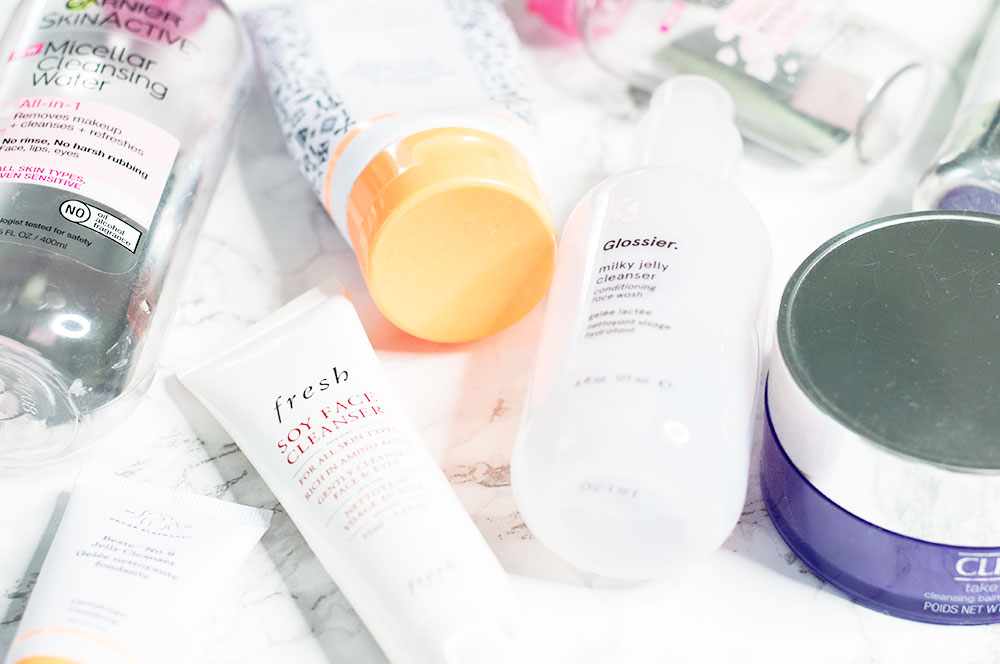 *The Pixi Double Cleanser was gifted to me for my consideration.