Sometimes suitcases are too big and others way too small, so when Raden wanted to send me out a product I was excited! They gifted me the A28. I'm so impressed with the quality of Radens luggage, that I wanted to write a review. I've posted on my Instagram stories and so many people wanted to know my thoughts on Raden. A few weeks back, they gifted me the A28 Check Luggage, since I do quite a bit of traveling. There is always something about packing that I enjoy, but I've always struggled to find the 'best' suitcase and something that stands out from the ordinary black piece that everyone in the airport seems to have.
Before I was gifted this case, I was toting around 3-in-1 bright teal soft roller cases – which now all three are completely disheveled. The largest and middle suitcases took the most beating as I often checked them going back and forth to Ireland from Florida. Whereas the little teal carry on seems like it will last longer. I never thought much of owning a hard cover suitcase, but I always liked the look of them. I opted for the light purple version of the A28, because not many people would mistake it as their own and I could easily spot it.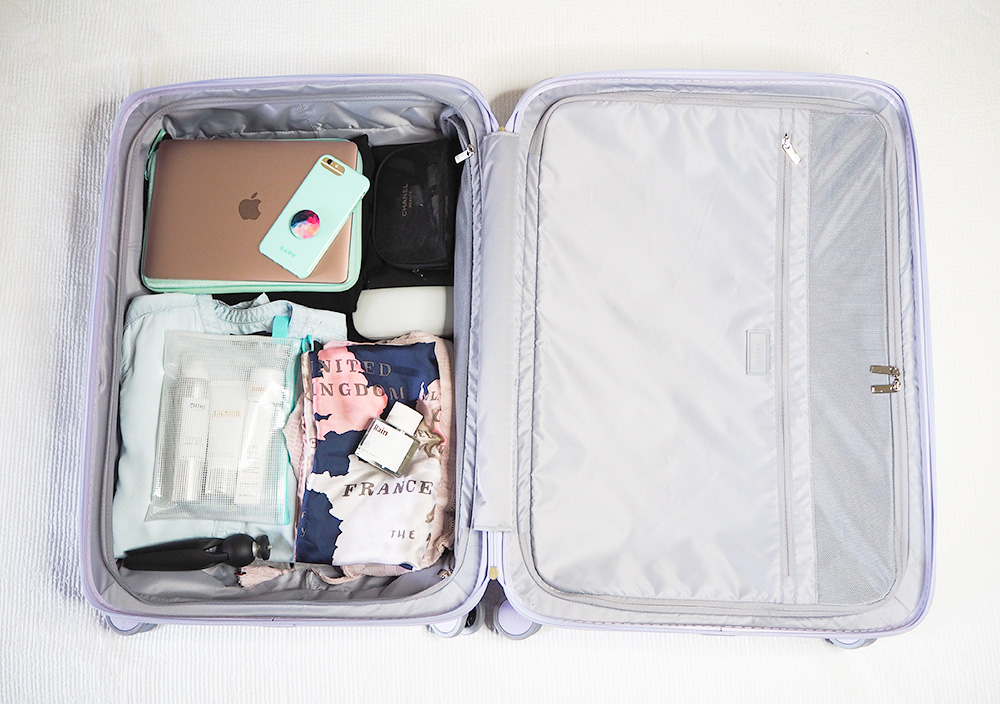 Raden is one of several "smart luggage" brands taking the luggage industry by storm. They weren't the first brand doing this, but they certainly are making a mark. The features of this suitcase that coin it smart are the following:
In-Handle Digital Scale
Smart Phone App (iPhone & Android)
Relative Proximity Tracking
USB Charing
Light-Weight Polycarbonate Cover
Multi-Directional Dual-Rolling Wheels
TSA Approved Combination Lock
Reverse Zipper
Once the package arrived at my house, I couldn't wait to open it. It came inside a Raden box, with a large dust cover over suitcase. I zipped open the suitcase and inside I found a cute surprise. It was a little Raden roll-up which had the USB charger, ear plugs and an eye mask.
As most of you probably know, the weight of luggage can alter the price you pay at the check-in counter at the airport. I used to have to carry around an extra piece of equipment just to make sure I never went over the weight-limit. Now it's built in and I can weigh it with the Raden app on my iPhone. The scale was quite helpful. I mean, it gives you a ballpark of how much your luggage weighs. It all depends on how you hold it though, so give yourself a pound or two difference.
I think the handiest part of the whole case though is the USB charging ports. It is equipped with two USB ports, so you never have to worry about using your phone or tablet too much on the airplane in order to conserve battery. Dang you, quick-dying iPhone. I found it came in handy while walking through the airport and then for a taxi to my destination. The battery is removable and charges rapidly.
I'll be curious to see how the case holds up and will update you further in a future post. So far, so good though! Bottom line: Would I buy one? The answer is yes. I honestly feel like I need to purchase the A22 Carry-On Luggage now too!!
*The Raden A28 Check was gifted to me for my consideration. Of course, all opinions are my own. You can shop these and many others by going to raden.com!