As you already know, I am a massive fan of Rituals. You have probably seen me go on and on about the brand on my channels. In case you didn't know, Rituals is a brand inspired by the wisdom and ancient traditions of Asian cultures. They have created an extensive collection of luxurious yet affordable products for home and body. I've been an avid customer since I tested Rituals in Amsterdam on a weekend away a few years back. The majority of my shower consists of their products, so I thought I'd share with you a few products that were just added to my collection.
The Ritual of Ayurveda is an ancient philosophy based on restoring inner harmony through the old practice of cleansing and nurturing your body and soul. In this collection, you'll find: Indian Rose and Sweet Almond Oil. The Indian Rose is used as a universal symbol of purity and love, while the sweet and delicate aroma of the rose evokes positive feelings. The Sweet Almond Oil is from an ancient Ayurvedic ingredient that restores the skin's moisture balance. The Soothing Hand Balm does exactly what it states: soothes. It leaves my hands hydrated and soft to touch after use. I've carried it along with me in my purse, and it has come in handy, especially on the airplane when my hands feel dehydrated and need a bit of a boost!
The Himalaya Scrub is amazing. I'm not sure what else to say about it! It's got the same scent and ingredients as the soothing hand balm, so the smell is refreshing and relaxing. I use it almost every time I shower, because its a great exfoliant mixed with a pure and calming oil. If I could suggest one product for you to pick it, it would hands down be a body scrub. Who doesn't love soft skin?! After stepping out of the shower, The Honey Touch Body Cream does wonders. It's a thick, velvety white cream with an Ayurvedic blend of Himalayan Honey and Indian Rose. It absorbs into the skin quite quickly, so it doesn't leave your skin feeling tacky. Used after the scrub, the fragrance lasts for ages.
As much as I love the Rituals Fragrance Sticks, I much prefer candles. Their Indian Rose & Sweet Almond Oil is by far my favorite! It's so cozy and smells so refreshing. I've burned through sooo many of them. This candle lasts 50 hours. Inscribed on the white jar, "What's meant to be will always find a way" shines through when the candle is lit. I have it on non-stop burn, but it gives off a strong scent, even when its not burning. After it was empty, I cleaned out my jar and used it as a container for my travel-sized lotions.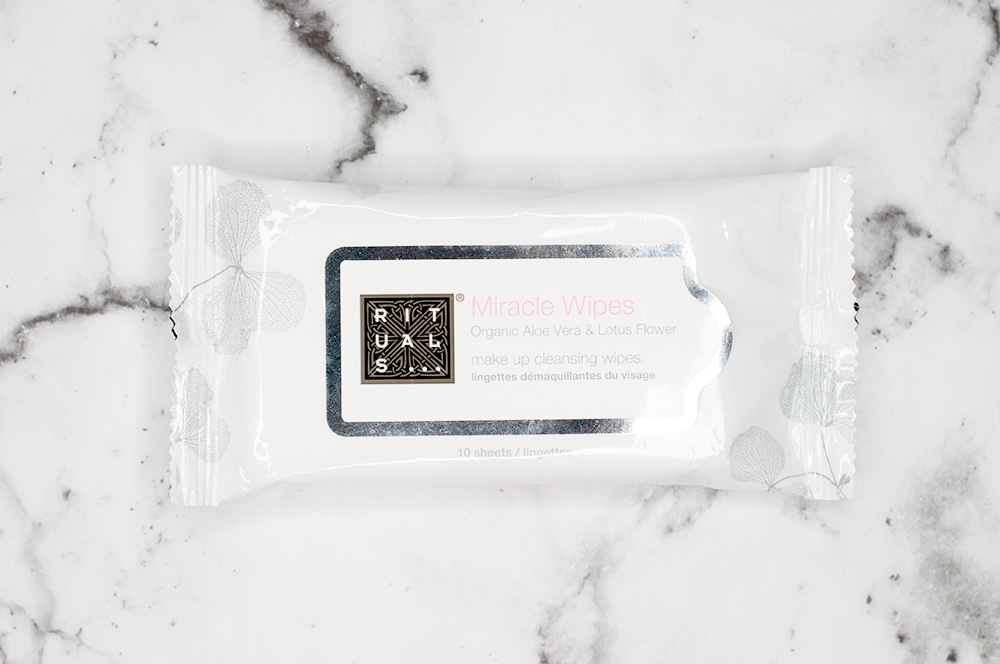 I haven't found another brand that make such an amazing makeup wipe. I know, totally sounds weird, right? But it's so true. For the past two years, I've had their Miracle Wipes in my beauty bag and am always stocked up. They are organic with aloe vera & lotus flower. The scent is light and fresh, no overkill on the chemicals. The wipes really do a great job meaning I can take all of my face and eye makeup with one cloth. I find that they are one of the only makeup wipes that smell great and do not sting my eyes. They leave my face feeling moisturized. The size of the pack is great for travel but on the flip side – they come in one size with 10 sheets. Hopefully they make a larger pack in the future!
*The Rituals of Ayurveda were gifted to me for my consideration by Rituals UK. You can shop these and many others by visiting their online store!