Hi! Before I get to the summer roundup – it's official, I've finally managed to catch a tan before the summer ended! Thank heavens for Florida! However there is a terrible con to flying: catching a cold. I've got the worst cough and have been so silent from social media for a few days. There's so many apps to catch up on now and with Instagram releasing their Stories. How do you feel about that? I'm a little indifferent to it at the moment. It is nice knowing that everything is all in one place, so convenient!
Anyway – I made a huge Sephora and Nordstrom beauty haul and online shopped a lot when I was back in the states, so I figured I'd shoot up some of my favorites before summer ends.
I picked up the NARS Monoi Body Glow and Monoi Body Glow ii. I used the second oil first and loved it so much that I had to go back and purchase the bronze version. The scent is so summery. The body oil rubs in leaving your skin feeling refreshing, but surprisingly not oily! (You just need to wait a minute for it to dry)
I have to say, I'm a little disappointed in the Body Glow bronze. I am not sure if this bottle I purchased was a malfunction or what, but the bronzer started getting extremely hard, and not like a liquid. Then a bunch of black dots started to appear. After contacting NARS, I was told that it needed to be run under warm water to 'activate the solution' – unfortunately this did not help me. I find it a little inconvenient to have to do additional steps, isn't beauty supposed to be flawless? I would give the Monoi Body Glow ii a thumbs up and the Monoi Body Glow a thumbs way down.
These Glow Kits by Anastasia Beverly Hills have been regurgitated all over social media, I'd be surprised if you haven't heard of them yet! That being said, I knew I had to try them out. Pictured above on the left is Sun Dipped and That Glow on the right.
Each palette contains four velvety highlighting powders that enhance your cheekbones, brow bones, collarbones, or whatever you'd want to highlight! The hardest part of owning the palettes is deciding which one to use first. All of the colors show up a bit differently, but my favorite of the two is Sundipped. Highly recommend purchasing!
Colourpop Ultra Matte Liquid Lipstick. Holy. Moly. I love this stuff!! So thrilled with my purchase, and extremely happy with the price point. I've seen these show up all over when comparing to the Kylie LipKits, so I thought I'd try to see a difference between the two brands. I purchased: Beeper, Limbo, and Clueless. All three are very pigmented and spreads evenly on the lips. There is no cracking and the formula lasts all day long.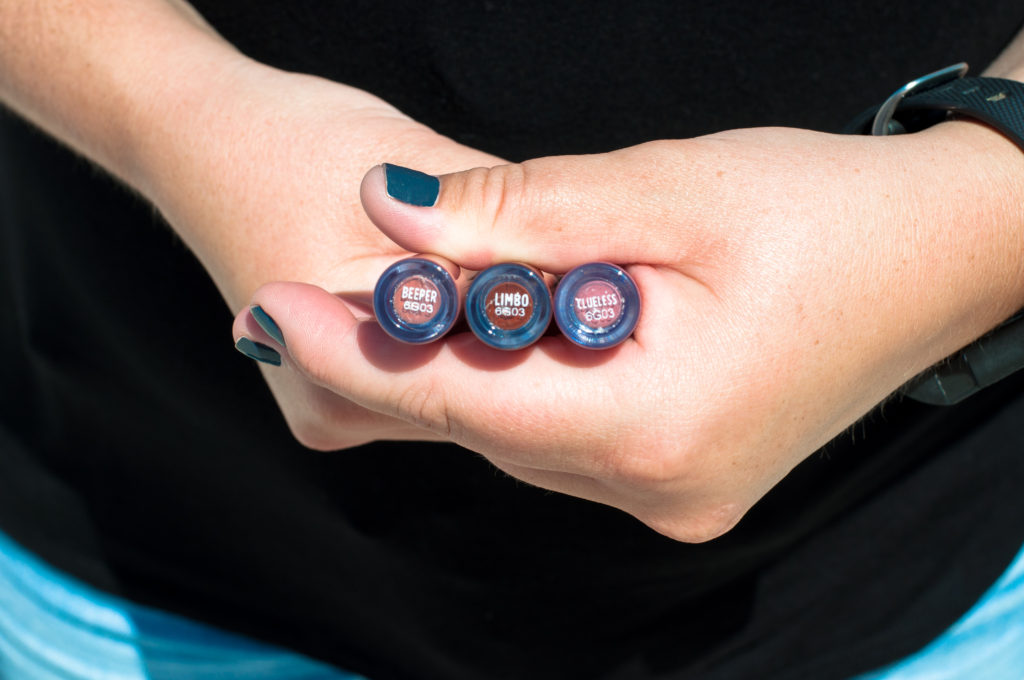 Beeper: is a warm mid-tone taupe. It's a perfect shade for everyday. Known as a dupe for Kylies Dolce. 
Limbo: is a deep brown. It's my least favorite color of the three because it's such a deep color. Nonetheless, it still is great for a night out. Known as a dupe for Kylies True Brown.
Clueless: is a dusty mauve-pink. It looks way more pink in the bottle than when it lands on my lips. Known as a dupe for Kylies Candy.
I won't get into everything I bought otherwise this post would be 100 pages long. If there's anything in the featured image that you'd like to know more about, please feel free to leave me a comment! Happy Thursday!