Happy Monday everyone! Hope you're having a great start to the week. I opened up my 'blogger mail' and was sent some brushes to test out – they're from Nima Brush. Nima Brush is a Professional Irish Makeup Brush Company specializing in makeup tools and accessories.
First off, lets just talk about my recent obsession with rose gold. I mean c'mon. Now look at these makeup brushes: the white handles with the rose ferrules, they're gorgeous. The collection pictured above is The Elite Face Detail Set, which retail at €65. There are five brushes in this set:
Large Tapered Kabuki: used to apply foundation, powder, blush or highlighters.
Precision Kabuki: used for concealers and contouring.
Angled Kabuki: used to apply bronzer and shade the hollows of the cheekbones.
Round Head Kabuki: used as a full coverage to apply powder effortlessly into the skin.
Flat Head Kabuki: used as a full coverage for fast applications. Currently a bestseller*
Secondly, these babies are soft and non-irritating to my skin. They are made of synthetic fibers, which mean the brushes can withstand cream, liquid and powder makeup products. The Kabuki brushes in the collection are designed to bounce back into place after applying makeup – in turn, making them long-lasting and very durable.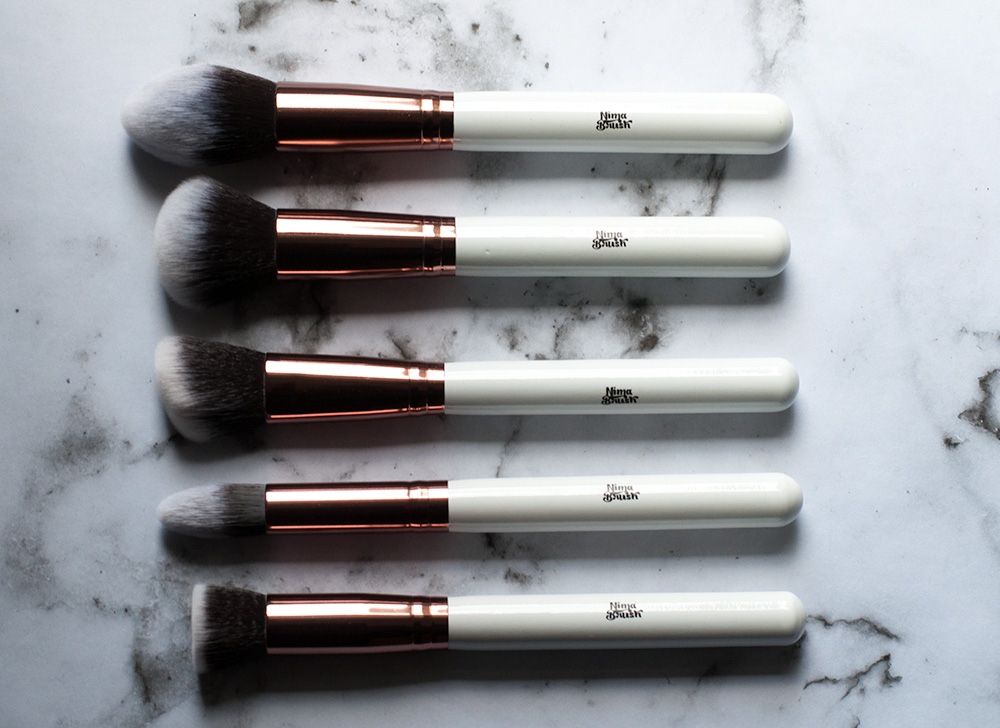 Like I've said before and I'll say it again, I've got sensitive skin. Cleaning them is definitely a way to maintain the longevity of the brushes. I personally clean my makeup brushes regularly – so about once a week or more. With these, it is so easy and the brush is well made, so the handles can take a beating without chipping/peeling. (Tip: I usually clean with my face wash or the MAC brush cleaner. Not only does it help my face from break outs – but they also keep the brushes soft.)
Pictured above on the left is the Fuzz. It is a large shader brush made with soft sable hair. Its uses are perfect for applying eyeshadow across the eyelid. It also works as a smudger. Pictured on the right is the Donna. It is a tapered blending brush made with goat hair. This tool is used for perfect blending and is my new favorite when creating a smokey eye! Both are retailed at €12.
I can't wait to try all the brushes in the collection. Have you used Nima Makeup Brushes before? If so, tell me which ones are your favorites!
*These brushes were gifted to me for my consideration.