Hi + Happy Monday. Hope you've all had a relaxing day! I've had an exhausting week, but great for the most part. A low point was definitely when I shattered my iPhone screen. After years of being so careful, I finally did it. Now every time I take a photo, the cracks somehow manage to align perfectly with my smile – made me think I needed a trip to the dentist LOL! However, the high point of this past week was on Tuesday. I went to lunch with YAWN, at Sophies, above the Dean Hotel. It is such a beautiful and trendy venue with a view of the whole city. I was able to sit down with other local bloggers and the brand to talk nightwear fashion over a delicious meal, wine too! What more could a girl want?!
To give you a little back story: YAWN is a London based pajama (pajama/pyjama) company taking over the nightwear space. And doing it extremely stylishly, might I add! They've made some of the cutest patterns I've ever seen and the cotton is so soft. Like really soft. All of the fabrics used are well made and feel like 'a million bucks.'  The pajamas all feature hidden messages and hidden prints. As I was putting mine on before bed, I spotted a cute little whale peeking out of waves design.


The YAWN pajamas photographed are: the classic jersey top in 'Dove Grey' and the 'Port in a Storm' bottoms.
On the collar of my t-shirt the inseam reads: Phone Off, Kettle On, Pyjama Time. That is the motto of YAWN, they encompass the true meaning of relaxation. Its a clever and cute little addition to remind myself to unwind and be comfortable. The quality of the t-shirt is durable and comfy – its even machine washable.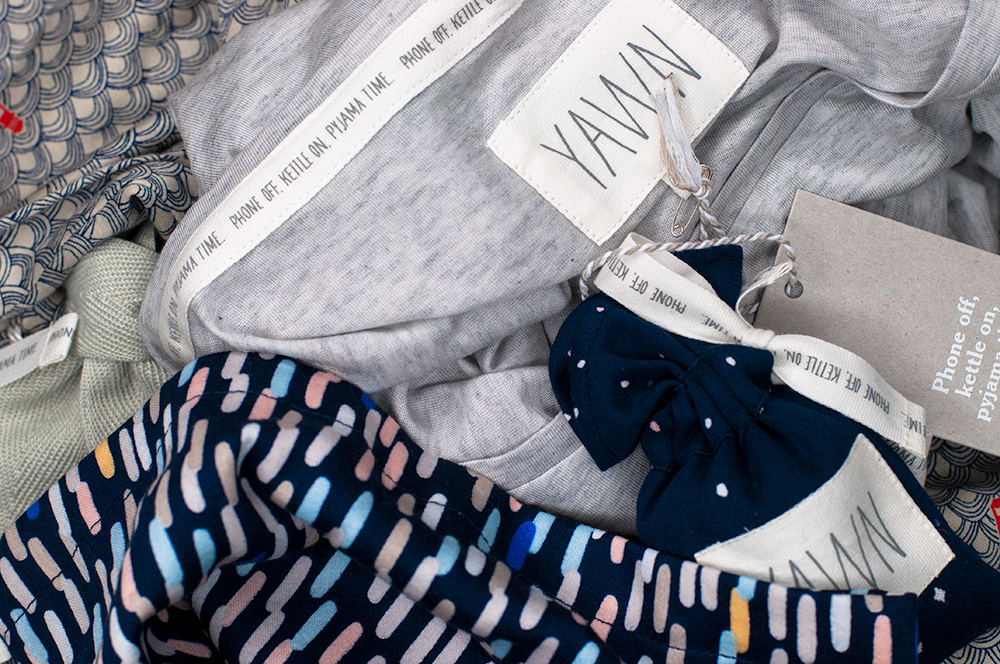 YAWN also makes a range of lavender scented bags. These are meant to throw inside your pillow to send you into a peaceful sleep. The lavender bags make a great addition for any gift or just if you're wanting to rest easy. YAWN has recently launched Ireland, so that is dangerous. I have got to say, its now my favorite pair of pajamas!
Have you stopped by Arnott's in-store and online to check out the gorgeous patterns yet? Let me know when you do! If you'd like to see more of their brand click here for Instagram.
xx
*These pajamas were gifted to me for my consideration.